Firewood For Sale, Hardwood Logs: Birch, Beech, Oak, Ash & Mixed
Are you're looking for wood to burn in a fireplace, wood stove or backyard fire pit? You found it!
Firewood logs for sale from Haardhouttoppers.nl. We are a retail and wholesale company based in Lisserbroek, the Netherlands. We have thrived in the market for over 5 years and become renowned for supplying the best ready to burn hardwood firewood for residential and commercial fireplaces in an ethical and environmental manner. Our kiln dried logs are always carefully prepared and resourced, and so it is ideal for fireplaces and wood burners. Please find below our offering of kiln dried firewood:
Kiln dried birch, beech, oak, ash and mixed hardwood species firewood
We sell our hardwood logs in a variety of size loads to meet your requirements. These include 1m hand stacked crates and crates with nets. These crates are delivered to you readymade allowing you to decide how you would like to store them. They can be placed directly into your garage or shed, or you can unload the wood into your storage area. If you wish, you may prefer to buy the logs in netted bags. These come in either 24 or 48 bag deliveries and are ideal for the easy transportation of the logs. Each bag contains enough logs to last a couple of days and are easily carried inside. Our logs are sold split into 25 cm lengths making them ideal for wood burners or open fires. As with all of our woods, our logs are kiln dried to reduce the moisture content down to a minimum of 15% or less. This process can take many hours and results in a wood that is less prone to sparking and will burn more cleanly. You will also use fewer logs as the wood will burn more slowly.
How to buy firewood?
Easy 24/7 Online Ordering in our webshop
Ordering per WhatsApp (Mon – Sat, 9 am-5 pm):
Floris: +31 6 23 24 01 17
Peter: +31 6 13 58 55 06
If you would like to contact us regarding more information or your delivery, we strongly recommend to email us at info@haardhouttoppers.nl.
Buy firewood at Haardhouttoppers.nl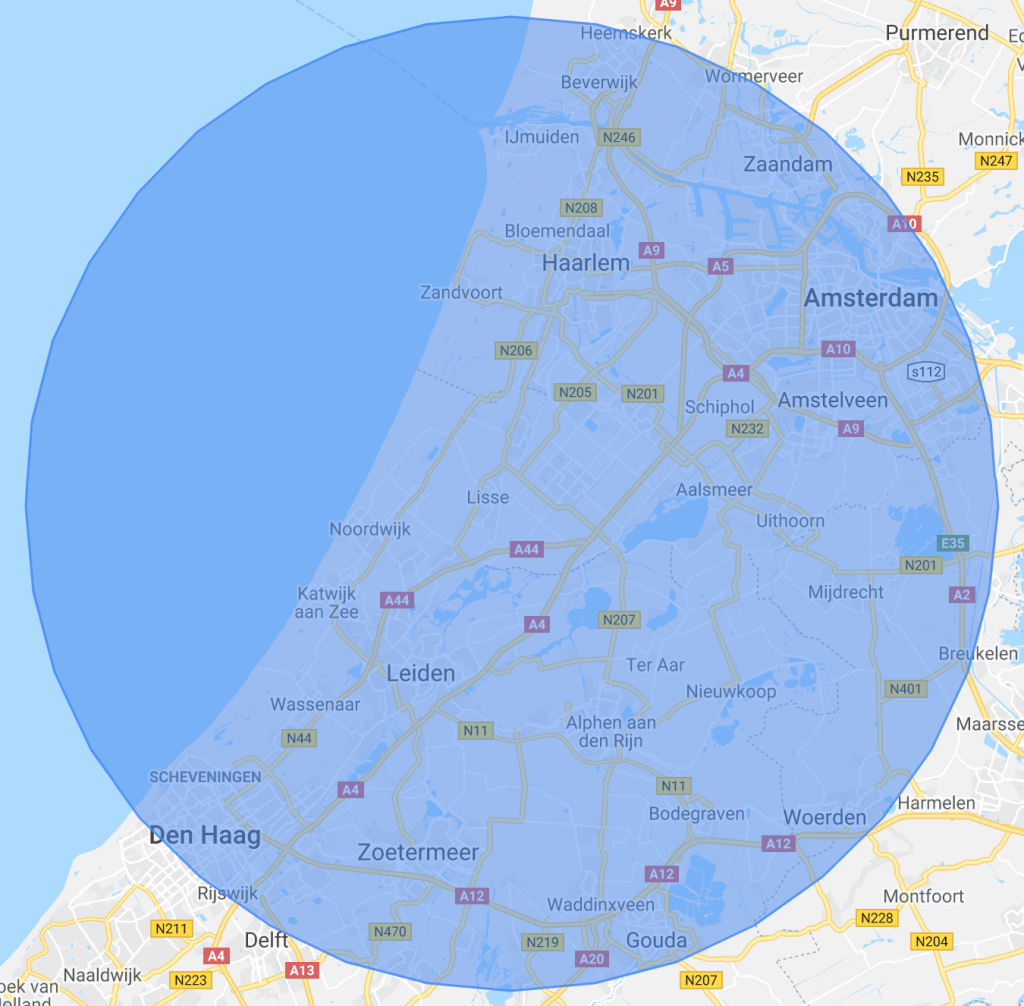 We sell kiln dried birch, beech, oak, ash and mixed hardwood species in hand stacked crates or nets.
All of our firewood products are priced competitively, shown including VAT (BTW), and we offer free delivery of crates (pallets) in our region (please check our map below: all places around en between Haarlem, Amsterdam, Amstelveen, Leiden, The Hague, Gouda and Alphen a/d Rijn).
Firewood Drive-in Lisserbroek
In the Firewood drive-In you can save yourself the carrying of firewood and you therefore win valuable time. This is how it works: you simply drive your car or van to the storage hall and load the products. Our employees will of course assist you here! With loose bags with firewood, but also with crates firewood. You can immediately pay with pin and so you are quickly back to your fireplace!
Opening hours & Location
Every Saturday from 9:00 am to 5:00 pm

Haardhouttoppers.nl
Lisserbroekerweg 40
2165 BG Lisserbroek